As we age, it is important to maintain balance and coordination. Many such exercises are available, usually involving hopping and retrieval of any object. Though valuable, these exercises seem a bit tedious. Instead, go for a game of hopscotch.
Grow New Brain
In order to avoid injuries in a fall, one of the most proven techniques is to not fall in the first place. Improving balance and coordination will accomplish this. By doing exercises geared toward balance and coordination, it will benefit your neuromuscular coordination. In more simple terms, it helps to improve the communication between your brain and your muscles. It also helps with core stabilization, which in turn helps you improve your coordination and posture; both important when trying to avoid a fall.
Repeated studies have shown that new neurons (nerves) are grown and neurological functions improved with all sorts of exercise. For a long time, it was widely believed that you couldn't grow new brain cells or new neurons. This way of thinking began changing recently. Nature Medicine published a report in 1998 indicating that the growth of new brain cells, also known as neurogenesis, does in fact occur in humans. Sharon Begley wrote in her book, Train Your Mind, Change Your Brain, "The discovery overturned generations of conventional wisdom in neuroscience. The human brain is not limited to the neurons it is born with, or even the neurons that fill in after the explosion of brain development in early childhood." With neurogenesis, we will grow the neurons needed for balance and coordination, as well as the thinking and memory types.
Exercises Specifically for balance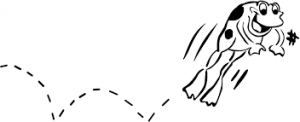 Patrick McKeon, PhD, assistant professor for the division of athletic training at the University of Kentucky, conducted a study on recreational athletes with chronic ankle instability and the use of balance training. In the study, the doctor made the participants hop off of one foot and land on the same foot—they started with small distances and then worked up to a few feet—then twist their body, reaching in various directions when they land. After that, he changed things up a bit by creating a grid on the floor. It was full of numbers, and he had the participants hop to random numbers. How utterly tedious. You can accomplish the same thing with a game of Hopscotch and have fun in the process!
Hopscotch
It is said that the first games of Hopscotch were played by ancient Roman children, but the first recorded instances of the game in the English-speaking world dates back to the late 17th century. Back then it was referred to as "scotch-hopper" or "scotch-hop". Even though it is looked at as a girl's game in modern times, as far back as 1677 it was actually considered a boy's game. In 1828, Webster's An American Dictionary of the English Language partially defined 'Scotch-hopper' as, "a play in which boys hop over scotches and lines in the ground".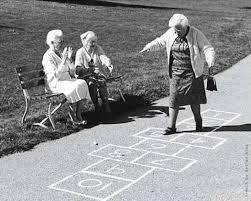 There are a variety of different hopscotch boards, but the modern way of playing still holds true for all versions. The game can be played alone or with other players and begins when a player tosses a marker. The marker is usually a stone, coin or bean bag, and is tossed into the first square. In order for the toss to be good, the marker must make it inside the square…no touching the line or bouncing out! Then, the player hops through the course, on one foot for any single squares, and two feet for side-by-side squares. The only square a player may not hop in would be the one with the marker in it (and any other squares with markers from other players). Once the player makes it to the safe zone at the far end of the playing field, they turn and go back, carefully leaning down to pick up their marker along the way.
Hopping on one foot works the muscles of the leg, making them stronger, and leaning down to pick up your marker aids in not only your muscle building, but your balance and hand-eye coordination, making Hopscotch a game that benefits people of all ages.
Strategic Advice for Boys
Since Hopscotch became a game predominantly played by girls, most girls, past and present, know all of the tricks. Boys, when they dared play, were always demolished. The girls had a trick up their sleeve that never failed: they would toss small chains as their markers and make the boys find a rock. Obviously, the rock bounced out of the square quite often, while the chain could be tossed close to the square where it will have to be retrieved from.
For those boys, and men, who feel that Hopscotch is for girls and think they would be silly to play…remember that originally it was designed for boys, played by both boys and men, and that boys and men can greatly benefit from the activity. Practice, and demolish the girls!