Osteoporosis will be prevented or will reverse if the large bones, meaning the legs, hips, and spine, are stressed

.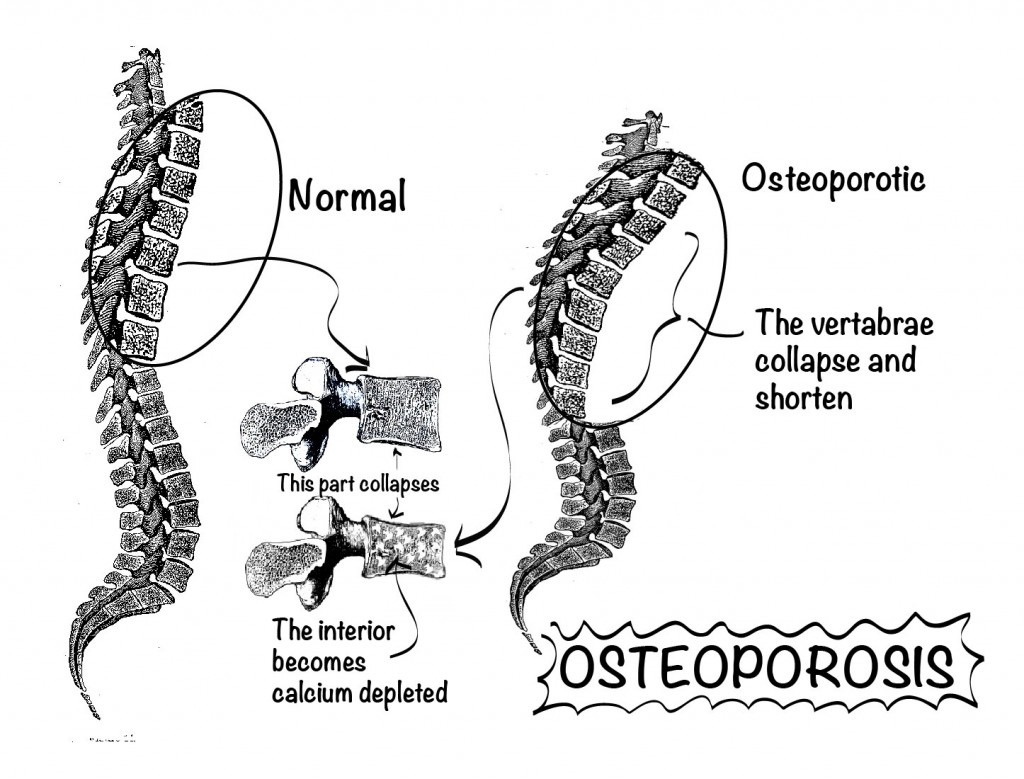 The best exercises for osteoporosis are squats and dead lifts, with as much wight as you can manage while still keeping perfect form.
The is the 4th in the exercise series. Joint maintenance was discussed here, and balance and neurogenesis, here.
Previously osteoporosis was discussed here and here.
Osteoporosis
Pills will not prevent osteoporosis Calcium supplements will slow osteoporosis down, but will increase heart risk.
The correct exercises cause the bones to stress. Stressed bones generate an electric field that physically initiates bone-building processes, thereby reversing or preventing opsteoporosis. Nothing else, including calcium pills, will cause this to happen. (This is another fact that has been around for several decades, but has largely eluded notice in the medical community.)
The bones we most want to stress are the ones that tend to collapse in osteoporosis: the legs, hips, and spine. There are two exercises that stress all of these and we recommend you do them frequently. Perhaps 3 sets of 10, each one, once a week. Note that throughout, "three sets" really means four. Before doing any weight bearing exercise, do a dry run. Do the same motions with minimal or no weight. This lubricates the joints and tests them as well.
If your knee joints aren't quite up to snuff yet, you can still start, but with limited motion. As the joint flexibility improves, increase your range of motion, not your weight. Toss on more weight when you've got full range.
Start out like this. Sit in a straight-backed chair, feet on the ground, knees above your toes, lean a bit forward, but lean from the hips, with your back perfectly straight, or even arched back a bit. Then vigorously push yourself straight up. That hard push is important. That's the move that stresses the bones and pulls in the calcium. Can you do this? If not, have someone assist you. Otherwise, do three sets of 10. If the chair is no problem, go into a squat. But don't go down to the baseline pain level. (See osteoarthritis post to determine this.) Stop right before it. Then drive up. Repeat.
When this becomes easy, start adding weight. The weight needs to be borne on your shoulders or held in your hands, so that your spine gets involved. You can either put a bar across your shoulders or hold a couple of dumbbells. Don't overdo this exercise. The weight should present a bit of a challenge, but should not be arduous. It is hard to manage a bar at home, but a couple of dumbbells will work. If you can't "curl" them up to your shoulders, sling them up. Don't go for more weight, go for more range and speed of execution. As soon as you can do full range without pain, you can add some weight. Both weight and range are important, but stick with the range-first order.
Deadlifts are the other osteoporosis-preventing exercise. You can use a barbell or dumbbells for weight. If you go to a gym, get a trainer to show you the right way to do these. It is easy to do them wrong and mess up your back. Above all, NEVER undertake a deadlift hunched over. Your back must be straight, or slightly arched back, and tight. The lift is begun with the legs. Watch the exercise videos on QuantitativeMedicine.net. Form is very important.
Again—especially guys—there is a tendency to pile on the weight. Instead, keep the weight moderate, but challenging, and drive up rapidly. The explosive nature more effectively triggers the bone growth, which is our focus here. There are several other reasons to go for the explosive speed, which we will explore presently.
Do three sets of ten repetitions of the deadlifts and squats, with light, but somewhat challenging weight, driving up with power and speed. Do each once a week, and you will probably never have to worry about osteoporosis.
You can also do things like climbing steps two at a time, with a powerful thrust, a great habit to get into. Besides stressing the big bones, this tends to keep the back aligned as well.
The full body scan, discussed earlier, gives you a way to measure bone density progress. If you are near the fracture threshold, you will need to intensify your efforts.
Now your exercise schedule might look like this:
Monday – 30-minutes
Wednesday-one hour
Friday – 30-minutes
StretchSquats: one sets of 10 repetitionsFree-play: do 20 minutes of something. Agility, flexibility, joints, weights. Don't get hurt.Spin on a stationary bike with low resistance for 5 minutes.
StretchAgility exercisesBalancing exercisesJoint exercises as necessarySpeed bagBalance on wobbly objectsPing-Pong

Hop-scotch

StretchDeadlifts: 3 sets of 10 repetitionsFree-play: do 20 minutes of something. Agility, flexibility, joints, weights. Don't get hurt.Spin on a stationary bike with low resistance for 5 minutes.
At this point you will be accomplishing this: You will have great joints, your agility and balance will be high. Nerves will be building. You will be preventing or, in any case, reversing osteoporosis. You will be directly knocking out two degenerative diseases, and setting the stage for hammering the rest of them.
The areas that would need further attention are heart rate variability and biological power. That's it. Pull off these last two, and you will attain peak health.
Spin On A Bike???
Why this works, we do not know, but it does. After some serious resistance exercise, your muscles will probably be sore the next few days. It's a "good" sore, as they say, since you are building more muscle, but it may get a bit boring. You can greatly reduce the soreness by doing this. At the end of your session, get on a stationary bike, set the resistance to "easy," and spin away for five minutes. Unless you brought some entertainment with you, you will be reminded of how boring aerobic exercise actually is.