A large number of interest groups have undertaken various sorts of research to 'prove' red meat is bad.  There are easy ways to do this, but they do not hold up under scrutiny.
You will have no trouble finding articles that prove red meat causes cancer, or heart disease, or ingrown toenails, or anything else of interest.
If you want to prove it for yourself, here are several ways:
Lump processed meat, hot-dogs for instance, in with red meat.
Lump trans-fat in with red meat.
Ignore confounding variables.
Virtually every study that concludes red meat is bad, has at least one of these flaws, and frequently all three.
Let's take them one at a time:
Processed meat: This would include hot-dogs, hamburgers, salami, bologna and so on. These are known to have all sorts of bizarre additives. Processed meat at the major fast food chains is invariably accompanied with refined grain bread, French fries, and so on. Processed meat, along with most other processed food is associated with increased incidence of disease and increased mortality.
Trans-fat: This one is getting a little harder to use, because trans-fat is getting harder to find. However, trans-fat, in its heyday, was responsible for perhaps 30,000 excess early deaths a year in the United States alone. Many long-term studies include data from eras where trans-fat was widely available.
Confounding variables: Heavy red meat eaters are disproportionately heavy drinkers and heavy smokers. Include them, and don't control for such behavior, and, yes, you will get a lot of disease.
Now lets suppose you eat a piece of grass fed beef. No additives, no food industry processing. Is this bad for you? Almost no study looks at this, and for good reason: red meat of this quality is quite good for you.
So what do the studies say. Almost always, overall red meat consumption comes in neutral: no effect on all cause mortality. Now if just processed red meat is considered, the numbers get bad in a hurry, 30% more heart disease, etc.
So then, an obvious question to ask is this: If overall red meat consumption is harmless, and processed meat consumption is really bad, then in order to cancel out the really bad processed meat, the unprocessed meat must be, therefore…..
They never say. For some reason the effects of unprocessed meat are rarely reported. It's always the total, and sometimes the total plus processed meat.
Clearly if the sum is zero and one is bad, the other one must be good. However, it is apparently not OK to say this!
And we haven't even gotten to feed lot versus grass fed.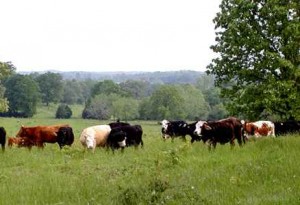 Oddly, in the China Study—not the book "The China Study," the Vegan bible—but the study itself, red meat was associated with lower mortality, and not just slightly. We have no idea what sort of meat was eaten, whether it was processed, etc. Still this is an interesting result to pop up in a study that is claimed to prove that all animal product is bad.
And never, never do you find a comparison between grass fed and feedlot meat. Feedlot animals are usually not healthy, frequently loaded with antibiotics and chemicals, and not very good as a food source.
So are there any groups of people out there eating healthy red meat about whom we have some medical information?
There are. At least as recently as 20 years ago, Northern Inuit were living on essentially a 50% fat, 35% protein diet. Most of the few carbs they got were also from the meat. These people purportedly had a heart disease rate 10 fold lower than the general North American population. This became known as the Inuit Paradox. Ten fold lower means almost none at all. There is a strong message here.
In Africa, there is a nomadic tribe where the men eat only meat during their 'hunting' years. Of 600 of these men, studied, only one heart attack was known.
What about cancer? Apparently among these heavily meat-eating people, cancer is as rare as heart disease.
Red meat? Get quality grass fed product and enjoy it. Or, if this seems a bridge too far, at least avoid processed meats.