Atherosclerosis Is a Preventable Disease – Preventable Without Drugs
Atherosclerosis is the buildup of rancid (glycated and lipoxidated) material behind the wall of the artery. It is a natural process, but the body has another natural process to undo this and keep the arteries clean. The buildup is primarily due to diet, but the prevention is primarily due to exercise. Both need attention to be optimized.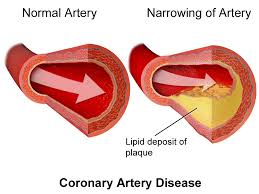 If you have high blood pressure, it probably means atherosclerosis, though there can be other causes. If you do not have high blood pressure, you are not home free. There can often still be a significant atherosclerotic load present even in people with a normal blood pressure.
Quantitative Medicine can help you reverse and prevent heart disease. This posts explains the steps. The first post dealt with the cause: Atherosclerosis Basics Part 1 – Cause
Preventing and Reversing Atherosclerosis
Simply put, ameliorating the cause and augmenting the repair will reverse atherosclerosis. We need to do both. One involves mainly diet and the other mainly exercise.  By diet, we mean eating the right sort of food, not 'dieting'. The exercise must be of the 'right' type as well. However a high chronic stress level will also accelerate atherosclerosis. Poor sleep patterns are an expression of stress and bad habits and is also linked to atherosclerosis. Keep in mind that stress directly limits the benefits of both the dietary and exercise effects.
Let's start with the cause. We have all heard of LDL, the so-called bad cholesterol. But, when is LDL cholesterol actually dangerous? A high concentration of very small LDL particles is a high-risk condition for plaque build up. This is called Pattern "B". On the other hand your LDL might consist of larger particles, particle too big to get behind the artery wall in the first place. This is called Pattern "A" and is obviously very desirable.
But what determines particle size and these Patterns "A" and "B"? There is some genetic good luck possible here. Some people, perhaps 30%, have the larger size particles and are at low risk for heart disease. However, you can control your particle size. You can go from "B" to "A". Smoking will decrease the particle size. This is one of the reasons smoking causes heart problems. Transfat also decreases particle size. Finally, a high triglyceride level is a cause for small particles too, probably the most important cause. This can be ameliorated with diet, and heart disease risk reduced 60%. This is a lot of reduction for just by eating properly.
The pertinent LDL size and pattern details can be directly measured. An expanded lipid profile blood test will determine the percentage of small particles, the diameter of the most commonly observed size, and several other attributes of LDL and HDL. Triglycerides are easily measured (and mastered) as well.
Triglycerides are the Dietary Key
Triglycerides are fat. Cells run on them. Some get into our body more or less directly from the food we eat. The liver produces a lot as well. Actually triglycerides aren't soluble in blood, so they need to be packaged in particles that are. The ones from our last meal are called chylomicrons, and are packaged by our intestines and sent into the blood stream in the neck via the thoracic duct.(Hello, brain and hypothalamus!) Chylomicrons have only small amounts of cholesterol and are usually consumed by hungry cells within a couple of hours.
The liver makes and packages triglycerides into VLDL particles. Viewed from the outside, these are very similar to chylomicrons, but VLDL, however, has a center composed of cholesterol.
If triglycerides are high, the liver makes larger VLDL particles, and crucially, makes more of them. What is crucial about a greater number of particles is this: The amount of cholesterol the liver is going to put into circulation stays about the same, so if it makes more VLDL particles, each one is going to get a smaller ration of cholesterol. Later on, when most of the triglycerides have been picked off, the result is a much smaller LDL particle – Pattern "B" sized – just what we do not want.
This is the key:
High triglycerides=small LDL particle size=disease progression.
Low triglycerides=large LDL particle size=disease reversal
The Triglyceride Paradox
Since triglycerides are fat, you would naturally assume that eating a lot of fat would increase triglycerides. Strangely, this isn't at all how it works. It is carbs, especially sugar and starch, that cause high triglycerides. This is because sugar and starch cause insulin to rise, and when insulin rises, triglycerides aren't stored or burnt, so they circulate and build up in the blood.
Oddly, this 'high carbs causes high triglycerides' thing has been known since the 50's, and further, that high triglycerides cause heart disease has been known almost as long. Makes you wonder how the high carb diet fad of the last quarter of the last century ever met medical muster. It's done enormous harm.
Eating a high fat diet doesn't increase triglycerides. If triglycerides were high from a high carb diet, they will usually drop, and drop fairly quickly. You will likely lose weight as well. If this carb-fat-store-burn is confusing, you might want to take a look at The Unified Theory of Fat.
Adult onset diabetics can have fasting triglycerides levels of 500 or more. Over 150 is considered high by most doctors. Actually you should shoot for something under 100, preferably closer to 50.  To get there, cut out sugar, cut out starch, cut out alcohol. Getting triglycerides below 100 usually will increase the size of the LDL particles, and thus reduce the amount getting behind the artery wall.
If triglycerides are low enough, LDL particle size will become Pattern "A". But how low is low enough? This varies from person to person. Usually below 100 will do it, but some people need to get their triglycerides significantly lower. The only way to find the triglyceride 'tipping point' is to measure, modify, and measure again.  Almost anyone can get to life saving Pattern "A".
HDL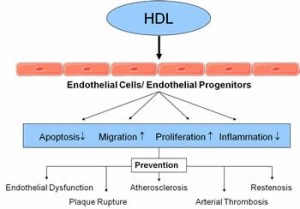 The other side of the equation is HDL We need to maximize the HDL cleanup.
If there is no dietary overload, HDL is more than capable of keeping the arteries clean. To be effective, HDL must be active, and this requires that the person be active. The movement of exercise, pounding of the heart, and stretching of the arteries lets the HDL particles migrate into the areas where they are needed.
Intensity is the Exercise Key
The type of exercise is important. It should embody these attributes:
It should be intense, rapidly raising the pulse rate to its (safe) maximum.
It should be explosive, a sudden burst of activity.
It should be concentric, meaning the muscle should be shortening.
In sedentary people, HDL isn't doing much. A typical HDL level for someone that does not exercise might be 30, but by far the more important issue is how much of that HDL is working, gathering up the junk. This can be measured. The measurement is called HDL2b and represents the percentage of the HDL that is returning to the liver loaded with junk. (Full disclosure here: there are several ways to measure the activated component of HDL. We are using, as a reference, the classification well described by Dr. Superko and first widely available from the old Berkeley Heart Laboratory.)
For a sedentary person, this might be 15%. Not a lot. A person doing the right concentric and explosive exercises will probably have a percentage above 35%. Plus HDL will probably go up 30-50% as well. This represents a large increase in garbage collection. Our exerciser's HDL system is unloading a whopping 3.5 times more bodily junk than the sedentary individual. The benefit of this is hard to overstate. The short answer is a 50% reduction in heart disease risk, 35% reduction in cancer risk from exercise alone. (Warning: do not make the simple logical leap that sedentary people don't need as much 'clean up' as active people and thus have lower HDL numbers. The statistics prove this leap a fatal one.)
CONTINUE TILL CURED
If you get triglycerides down, don't have many of the very small LDL particles, and get your HDL2b up, any heart disease you have will begin to reverse. It's largely that simple. You have altered the tipping point of this disease. The immune system, including its HDL helpers, is more than adequate to control atherosclerosis. Any deposited calcium- one marker of atherosclerosis- will likely persist a long time, but this in its self is not harmful.
Step one is to reduce triglycerides, so as to boost the LDL particle size and prevent migration behind the artery walls. Even though they are fat molecules, high triglyceride levels are almost always the result of excess carbohydrates, i.e. excess glucose. This seems paradoxical, but, as explained above, is a result of the insulin boost from the excess glucose.
If a person can reduce his glucose to below 100, ideally to 80, and get his insulin below 10, triglycerides will fall, typically to below 100. Various guidelines call below 150 low risk, this is simply not true for most people and will result in a continued 'B pattern' until the triglycerides are lower. Measurements must be made to establish your personal target level, with lifestyle modifications and re-measurements on a regular basis until you know a stable relationship between behavior, triglyceride levels and your LDL pattern. People vary considerably but once you have achieved a stable "A" LDL particle profile, half the battle is won.
A person may have to almost completely give up carbs, or at least starches and sugars. This can be difficult, but it is not at all dangerous. For many, the transition is easy. For others, there will be a craving for carbs that lasts from 2-4 months. This is roughly the amount of time it takes cells to switch from a glucose diet and 're-program' themselves to run on fat.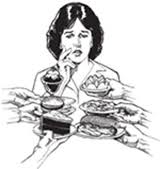 The other side of the cure is to boost the HDL garbage collection activity. This one is more exercise driven. Two intense 45 minute sessions a week will probably do it.
Fix these two and atherosclerosis will reverse in most cases. If these numbers have been maintained throughout ones life, heart disease is never going to develop at all. This is the case with almost all hunter-gatherers.